An awarding ceremony to acknowledge foreign experts who have made special contributions to the social and economic development of Yunnan Province was held at Kunming Zhengzhuangying Hotel on April 26.Prof. Fang Zhen of XTBG was one of the 10 winners of 2012 Yunnan Friendship Award, presented each year by the Yunnan Provincial Givernment.
  Mr. Li Jiheng, governor of Yunnan Province, presented each winner with a golden medallion, and an official certificate.
  The award is presented annually to foreign experts working throughout Yunnan who have made an outstanding contribution in fields such as business, agriculture, medicine, and education. Recipients in 2012 were from Germany, Canada, Australia, India, Singapore, Bangladesh, Korea, and the United States of America.
  In 2006, Dr. John Kress, an adjunct professor of XTBG, was honored the award.
  The Friendship Award was established in 1997. It is the highest honor available for foreign experts in Yunnan.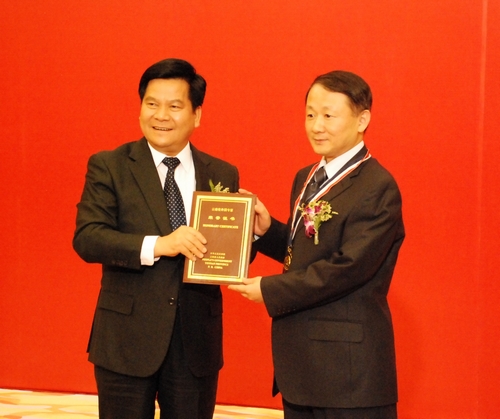 Governor Li Jiheng confers the award to Prof. FANG Zhen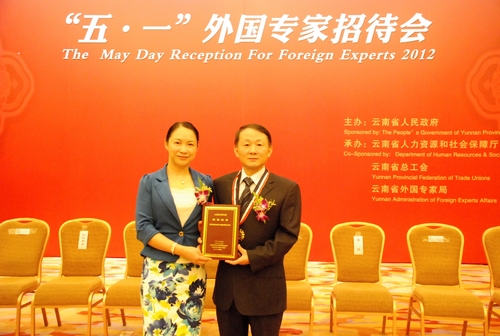 Ms. Shen Hua, vice president of CAS Kunming Branch, poses with Dr. FANG Zhen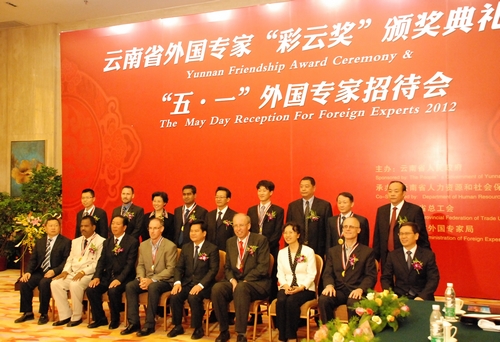 Winners pose with Yunnan provincial officials